We want to get rid of the following non core stock items.
Please feel free to get in touch to make an offer we can't refuse !



Gitane D-500
(S/N 5488)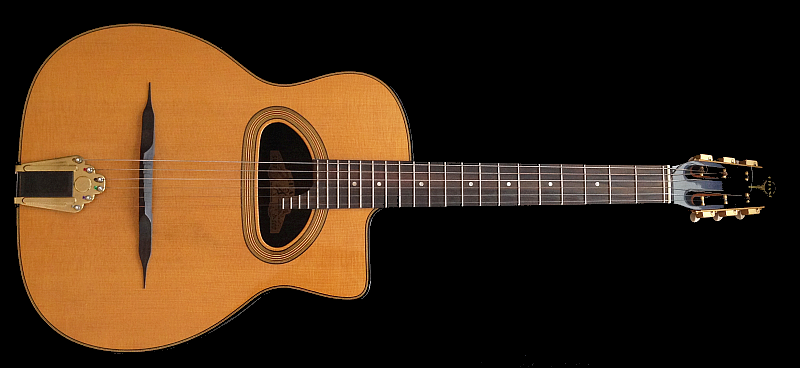 Gitane D-500 Maccaferri style jazz guitar (Django). Solid spruce top, rosewood back and sides, mahogany neck, horizontal cut-away, multiple ebony/maple purfling on all edges, characteristic large 'D' soundhole, moustache bridge with movable center, dovetail neck/body joint, slotted headstock with rosewood overlay, extended 24 fret ebony fingerboard, mother-of-pearl dot markers, 25 1/4" scale length, 1 7/8" nut width, 18 1/2" body length, 14:1 ratio geared nickel-plated tuning machines, adjustable truss rod, trapeze tailpiece, high gloss finish. Condition: Mint
Price, further info and pictures: on application Condition: Mint, nearly used




Van Weelden - Royal Overdrive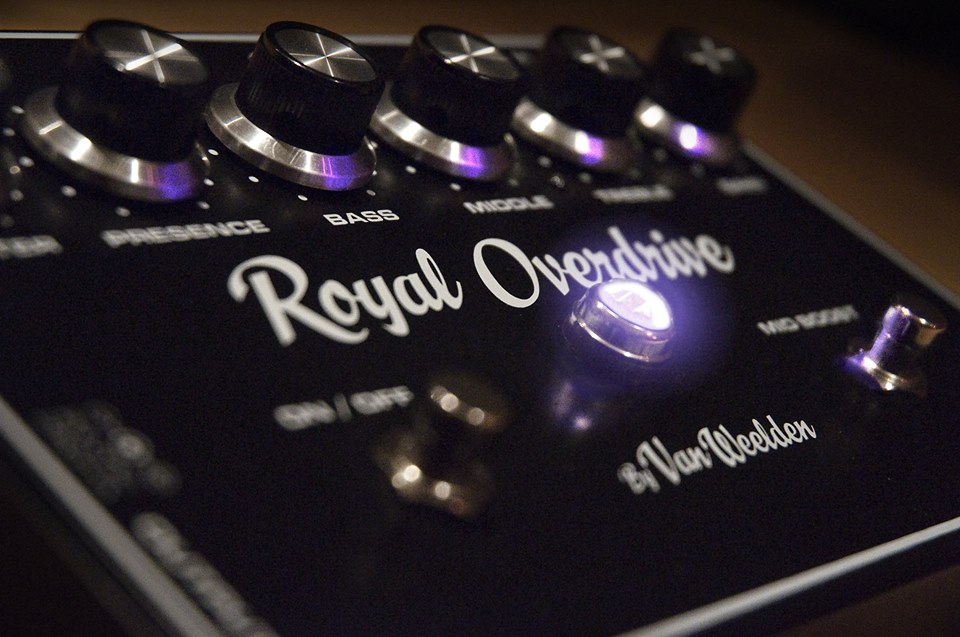 Never before has a solid state overdrive pedal been so close in capturing the sound and dynamic behaviour of real tube amplifier circuits. Generally guitar players are musically inspired by the sound of well-designed tube amplifiers in terms of richness in harmonics, articulating, touch responsive, compression but still powerful tone and not altering the unique characteristics of your guitar. The Royal Overdrive features a combination of all these key tube sound aspects. Like good wine designing a new circuit takes some time to "age" (to become mature). That is why it took us 4 years to complete this unit for you. The Royal Overdrive offers a wide range of overdrive tones for any style using either passive pickups (humbucking, single coil) or active pickups. Furthermore it features a more complete tone shaping network with individual tone controls. This architecture makes the Royal Overdrive a more complete preamp that has versatility to be combined with any guitar amplifier beyond that of the more classic Overdrive pedals. Why sell it ? I have two of them ! ;-) Condition: Mint, never used
Price, further info and pictures: on application




Rocktron Banshee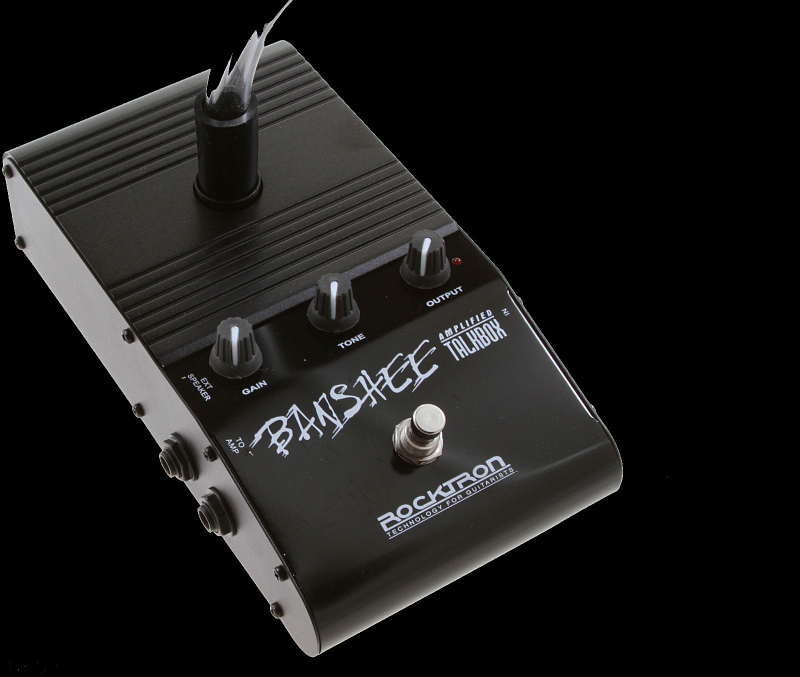 You want to really speak to an audience with your guitar? The only way to get that classic "talking guitar" effect that Peter Frampton made so famous is with a talk box effect. Unfortunately, the rig that Frampton used was a nightmare to setup, requiring a second, dedicated amplifier to drive the talk box speaker. The Rocktron Banshee Talk Box makes recreating this radical effect easier than ever by providing its own internal amplification. Its improved design is easier to incorporate into your effects rig, and it sounds better, too. What's not to love?

While a revolutionary idea, the original talk box designs weren't much more than a speaker that fed a surgical tube. In order to make it work in a live setting, the amp would need to be bypassed, and a separate amp would need to drive the talk box--a setup that's costly and a hassle to gig with. Frampton had his own guitar tech to set everything up for him, but many a guitarist has attempted the talk-box sound only to incorrectly patch the talk box into their systems or mismatch amp/speaker impedances, resulting in blown heads and costly repairs. The Rocktron Banshee eliminates all these problems by providing its own, internal six watt amplifier. This simple solution allows the pedal to be placed in-line with the rest of your stompbox effects, and eliminates both the need for a second amp or the possibility of damaging your first one! It's simple, safe, and it just plain sounds better. Because the Banshee contains its own amplifier, it's capable of a wider sonic palette than its predecessor. Rocktron gives you gain, tone, and output level controls, so you'll be able to make your talk-box tone dirty, smooth, cutting, or anything in between. Another thoughtful addition: an external speaker output. Rocktron figured "hey, we've got a six-watt amp, why not let guitarists use it to drive a speaker cabinet for practice?" Condition: New / Unused
Price: € 150,= (or make an offer)




Roland VS880 (extended and upgraded with FX)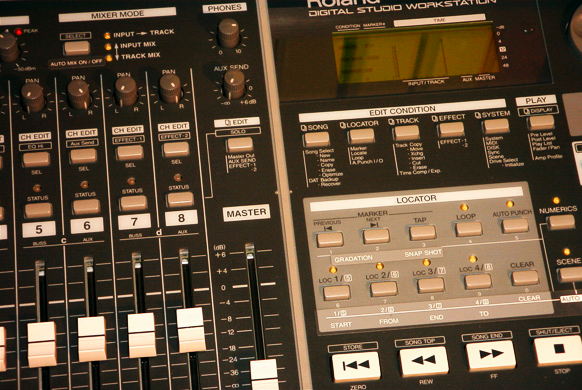 Completely digital recording system: recorder/editor, digital mixer, onboard effects (with VS8F-1) and removable/fixed storage media
64 tracks of digital hard disk recording (eight primary tracks; eight virtual tracks per primary track)
500 total track minutes or 60 minutes of recording time per track in Standard Mode using 1Gbyte Jaz drive
Completely non-destructive editing; cut, copy, erase, exchange, move, insert
Advanced digital features like Scrub Preview, Time Stretch, Time Compression
"Comp" from various "takes" to create the perfect track
14 channel, fully digital mixer; full automation is possible with an external MIDI sequencer
Two powerful onboard multi-effects when expanded with the VS8F-1
Fixed hard drive or built-in Iomega Jaz drive for data storage; take song data with you just like tape
Built-in SCSI port offers storage with SyQuest, MO drives, etc.
Digital in/out, MIDI Time Code and MIDI Machine Control for sync
Note that this product is no longer in production. Similar capabilities can be found in the BOSS BR-1180/1180CD Digital Recording Studio.
See: user manual.
Condition: Very good, barely used
Price: € 100,= (or make an offer)




BOSS eBand JS-8: Audio Player with Guitar Effects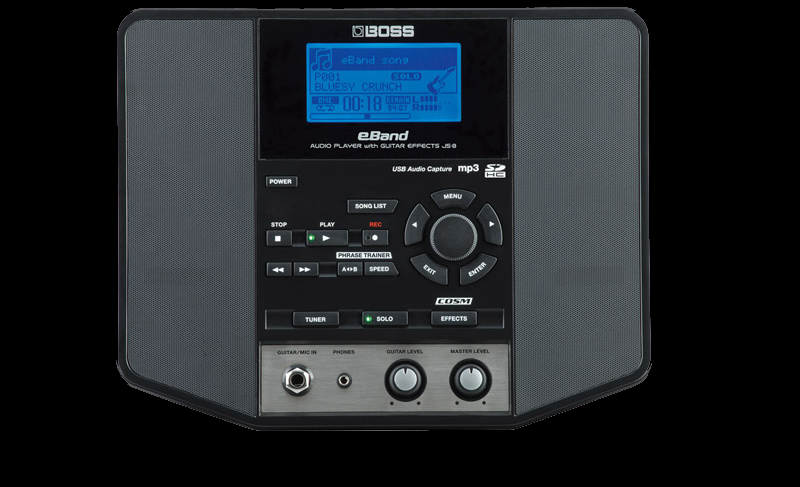 The Ultimate Jam-Along Companion for Guitarists

For "bedroom guitarists" who love jamming along with their favorite songs, the ultimate musical companion has arrived. eBand is a portable all-in-one audio player that's packed with big features. WAV and MP3 files can be loaded and played by eBand, and the tempo and pitch can be changed. Plug in your guitar and jam along using the powerful onboard COSM® preamp and BOSS effects. You can minimize the pre-recorded vocals or guitar parts with the Center Cancel feature for minus-one play, and record and save your jams. There's even a library of backing tracks and rhythms onboard, plus a built-in tuner and metronome.

Imports and plays audio files (WAV and MP3)
Pitch and tempo control of imported songs
Guitar/Mic input with dedicated input control; headphone output
Custom-tuned speakers for powerful playback
COSM Preamp and 100+ effects derived from BOSS GT-10
EZ Tone function provides the ultimate easy-to-use, intuitive approach to sound creation based on graphic icons
300 audio-loop phrases onboard for backing tracks and rhythms (some include companion guitar effects pre-programmed to match the loops)
Tuner and metronome built in
Records and saves your guitar performances
USB audio interface for direct link to and from PCs
Play songs from USB memory stick
Import your favorite songs from audio CD to eBand with included utility software (PC/Mac)
See: user manual.

Condition: Very good, barely used
Price: € 150,= (or make an offer)